Maize/Corn Flour and Grits Milling Plant Introduction
Corn grits is a kind of high nutrition food made from corn produced by corn grits milling machine.
Grits is used as a raw material of corn flakes, extruded snack, brewing adjunct and in malted beverages, also used for animal feed.
The production line capacity of corn grits milling has 10ton/d, 20ton/d, 30ton/d, 50ton/d, 100ton/d, 200ton/d, 300ton/d, 500ton/d.
We can provide different solutions based on customer requirements, funding budget, and factory size.
The production line can produce some products at same time: different size grits, flour, bran&germ.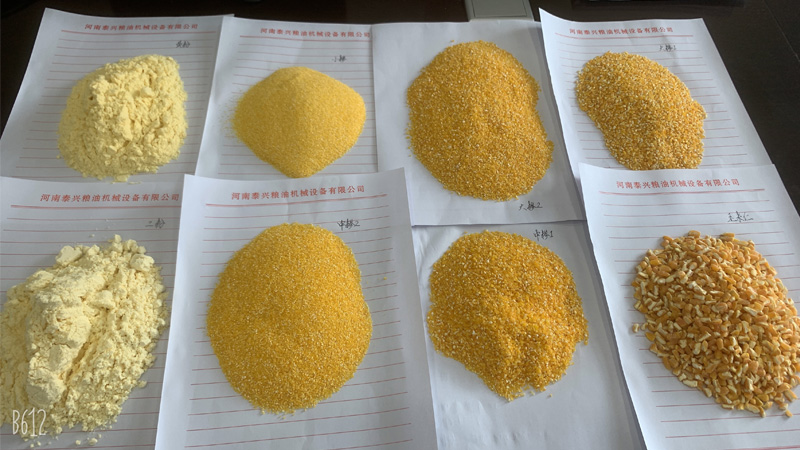 Technology Processing of Corn Grits Milling:
Corn grits production is completed by professional corn grit milling plant. It involves a series of steps: cleaning, peeling, polishing, germ removing, grits grinding, sieving and final products packing.
Cleaning
Processing by magnetic separator, efficient vibrating screen and specific gravity destoner to screen out the iron nails, gravels, sands, straw, and other impurities and dust.
Peeling, polishing and germ removing
Processing by emery roller peeling machine, iron roller polishing machine and degerminator to remove the skin and germ from the endosperm, to make sure the quality of corn grits.
Grits grinding
Grinding by hammer mill to get different size of corn grits, next flow to plansifter for size grading.
Grading and packing
Sieving the grits by plansifter, then get small size grits, middle size grits, big size grits. Also we can make it according to customer requirement, like only want one size grits or other more size grits.
And other grits not meeting the requirements will be milled into powder.
Before grits packing, it will use color sorter to separate impurities of different colors, to get high quality of grits.
100T/D Corn Flour & Grits Production Line Setup