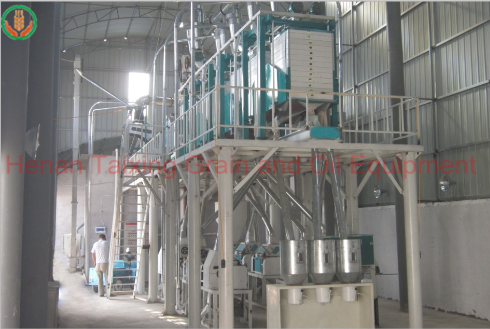 Product Name: What are the advantages of the steel frame complete set of flour mill
Taixing machinery for the installation of the steel structure of the steel structure of the complete sets of flour milling equipment, usually two, three steel structure, is our technical staff according to the development of today's milling process, carefully developed, can also be used All kinds of milling machines, high-side sieve and other advanced equipment. Its main features are:
1.High degree of automation, saving labor cost
2.Low cost of plant construction, less investment, quick effect
3. Small footprint, short construction period
4.With the method of grinding and feeding, the relative power consumption is higher, but the way of gravity feeding can be realized.
5.The length of the process powder road can also reach the medium flour mill level
6.Wide use of light rollers, can also produce high-quality flour
7.Can produce different grades of flour, is the first choice for small and medium-sized flour Mills
The steel frame complete set of flour mill description
Certification:CE, ISO
Final products:Super Fine Flour
Brand Name:TAIXING
Voltage:380v
Color: According to customer requirements
Main machines: roller mill, double section plansifter, conveyor, bran brusher etc